Under the One China Policy, China considers Taiwan as part of its own
China's People's Army has warned of action
New Delhi, August 3, 2022, Wednesday
Taiwan has become the focal point of the war between China and the US in the South China Sea. America's House Speaker Nancy Pelosi is expected to lash out at China while visiting Taiwan. China's People's Army has warned of action. China wants to annex Taiwan as its territory, but this prosperous region with a population of 2.39 crore considers itself an independent nation. As of now, Taiwan has been struggling to maintain its existence for the last 72 years with a red eye against China. If any country has a relationship with Taiwan or visits a diplomat, China becomes fuming.
China considers anyone who has relations with Taiwan as an enemy
The US strongly supports Taiwan in the South China Sea dispute. China views this as a violation of its One China policy and international regulations. China has always warned that any country that supports Taiwan will lose sight of China's 1.44 billion people and be prepared to suffer the consequences. China also keeps threatening Taiwan's elected democratic government that you are part of One China. Accept China's rule and gain autonomy, otherwise we will not even consider military action.
Chinese warships are pounding the waters off Taiwan, and warplanes frequently fly over Taiwan, violating the air border. Taiwan's female president Tsai Ing-wen is not ready to bow to China at any cost. He was first elected in 2017 and won the second time last January 2020 with 57 percent of the votes.
This woman president has become popular in Taiwan as a strong anti-China leader. She has challenged China by building a strong side of Taiwan's separate existence before the world. Rejecting China's long-cherished one-China policy, Tsai Ing-wen recognizes Taiwan as the original Republic of China (ROC).
While the Communist Party of China considers the People's Republic of China (PRC) as the only China in the world, including Taiwan. Taiwan's position is such that if it accepts China's One China policy, its very existence will cease to exist, so it is important to understand the complexities of One China vs. Taiwan.
In 1949, military commander Chiang Kai-shek founded Taiwan
During the colonial period of 1642 AD, Taiwan was occupied by Holland. After the collapse of the Ming Dynasty in China, the Qing Dynasty of the Manchus ruled Taiwan from 1683 to 1895. After Japan defeated China in 1895, Taiwan came into the hands of Japan. After the defeat of Japan in the Second World War, the United States and Britain decided to hand over Taiwan to the great statesman and military commander of China, Chiang Kai-shek.
In 1949, a civil war broke out in China between Chiang Kai-shek and communist supporters. Chiang Kai-shek fled China to Taiwan after the Communists led by Mao Zedong defeated the Nationalist Kuomintang Party led by Chiang Kai-shek. China at that time was not in a position to take major action against Taiwan.
The Republic of China (ROC) was established in Taiwan while the Communists established the People's Republic of China (PRC). Both these parties claimed to represent China as a whole in the world. During the Cold War, the world was divided over Taiwan and China, but America was always on Taiwan's side.
China's Deng Xiaoping's attempt at Sino-Taiwan unification
The 1970s to 1980s were a difficult time for Taiwan. In China (PRC), after Deng Xiaoping took over the rule of China, one nation two system was implemented. The objective of this plan of the ambitious Deng was to unify China and Taiwan.
At that time, Taiwan had almost adopted a capitalist economic structure. The Communist Party proposed to merge with China with the generous generosity that Taiwan should maintain its economic structure, keep the army and even separate the administration, but Taiwan rejected the Chinese proposal with the one country, two systems policy.
America's Role in the China-Taiwan Dispute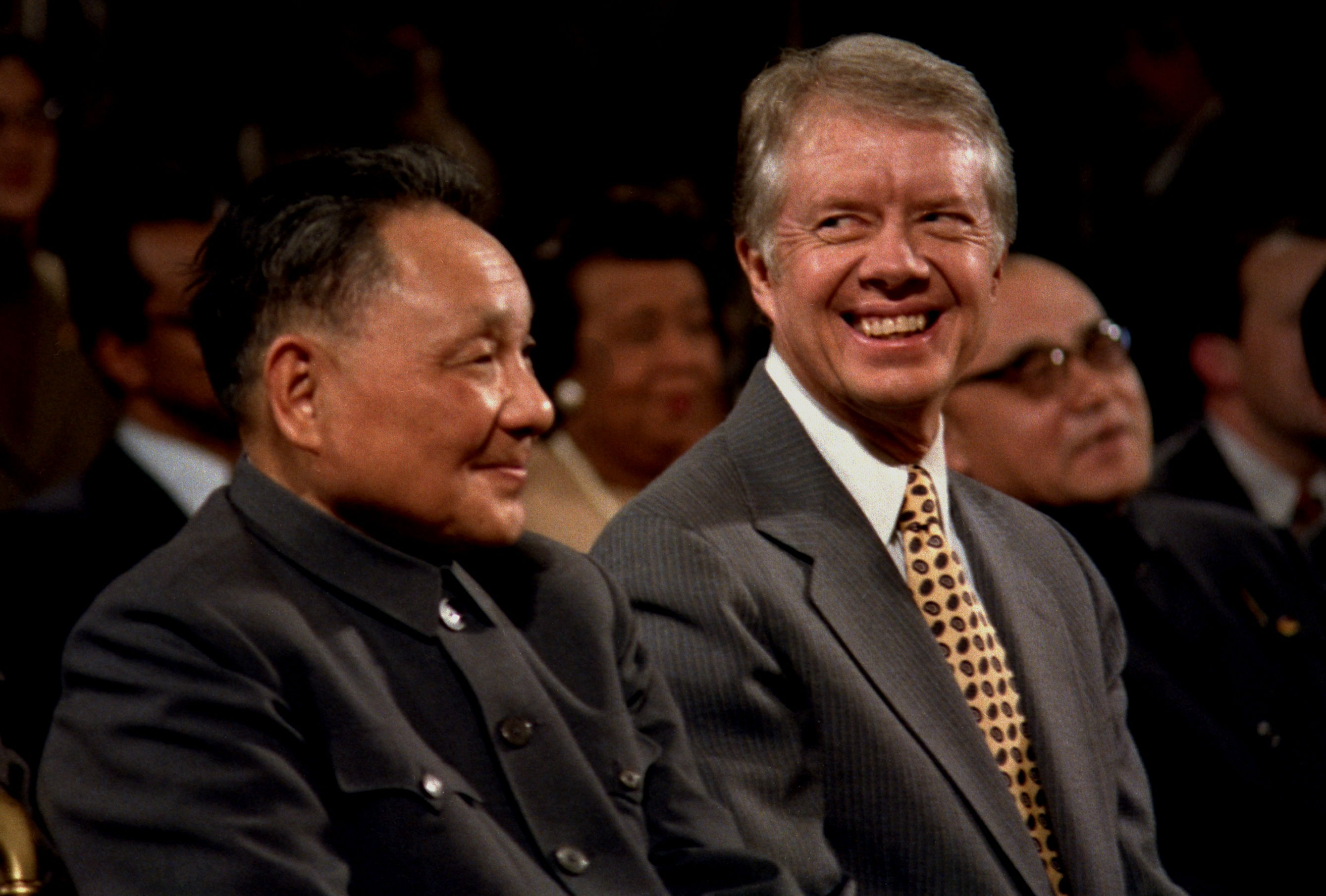 In 1971, China became part of the United Nations Security Council during the time of US President Richard Nixon and in 1979, Taiwan's recognition from the UN ended. The US has always been a supporter of Taiwan, but in the 1970s its trade lobby saw China as a market as well. At that time, the corporate lobby wanted good relations with China, which had a population of 70 crores rather than 1 crores.
In 1979, the then US President Jimmy Carter severed diplomatic ties with Taiwan to strengthen ties with China. However, the US Congress had decided to give arms to Taiwan by passing the Taiwan Relations Act and to take it seriously if China does any damage. However, Taiwan paled in comparison to Communist China. The policy of all presidents except Jimmy Carter has been to support Taiwan. After Donald Trump, Joe Biden has also continued his anti-China Taiwan policy. Taiwan could become an important partner to challenge China's claim to the South China Sea.
However, Taiwan is still not a member of the UN. Has a record of excellent performance in the corona epidemic but is not a member of the World Health Organization. In Taipei, the capital of Taiwan, there are embassies of only 15 countries such as Alize, Iswatini, Guatemala, Holy See, Honduras, Naura, Nicaragua, Tuvalu and Palau, these are island countries that do not have any special presence.
Taiwan has become stronger since Tsai Ing-wen took over
Taiwanese people are very hard working and enterprising. Youngsters with knowledge of electronics and IT become awash in piles of wealth at a very young age. Cities including the capital Taipei have high speed train and metro facilities. Believing in the tradition of worshiping gods, Taiwanese have great hatred for China (PRC).
It is not the case that China supporters live in Taiwan too, but the situation has changed since Tsai Ing-wen of the Democratic Progressive Party took over the leadership. Tsai Ing Wen believes in a non-aggressive policy of not leaning against China, while Wen's main rival, China, wants to move forward peacefully by reducing tensions. Psy Ing Wen goes to America or Germany pokes China like an eyeball.
Dash Line-9 is also a source of dispute between China and Taiwan
Dash Line-9 has also been a source of dispute between China and Taiwan as China claims the South China Sea as its own. In the battle of One China vs. Taiwan, America has positioned itself and is also strengthening Taiwan.
Taiwan believes that there is no question of believing China from the experience of Hong Kong, while China believes that the integration of Taiwan and China will continue. Who will have the upper hand in the war between China and Taiwan remains to be seen in the future, but it is no less than a feat that Taiwan has survived in the face of China so far.