Tehran, July 25, 2022, Monday
Have you ever heard of a mountain whose soil can be used as a spice in food? The only mountain in the world is located in Iran's Hormuz Island whose soil can be eaten and does not harm the body. Visitors are surprised to see locals using it freely like a spice.
Spread over an area of ​​8 km off the coast of Iran, Hormuz Island is also called the Rainbow Island because of its colorful appearance. Crores of years ago, the erosion of the coast created large layers of salt on the coast. The entire terrain has become colored due to the collision between these layers and the dust of the volcano mixing in it.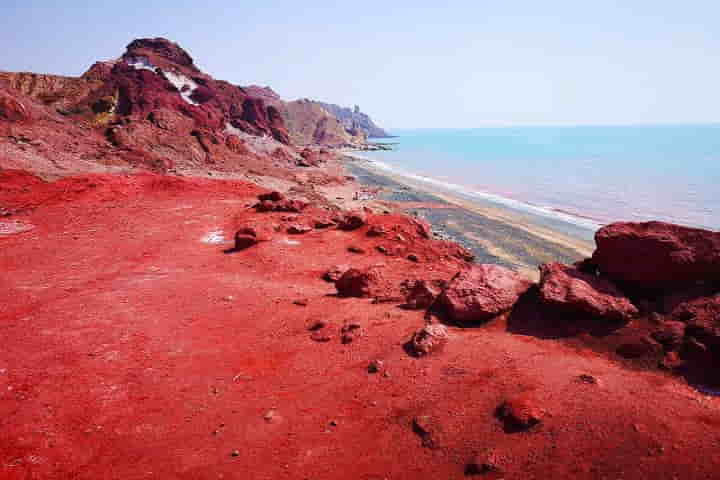 The people of Hormuz prepare a food called Surgh from fish like sardine, kilka found on the coast and put this red spotted clay in it. This red clay is also used to make a local bread called tomshi which people enjoy with paneer. Rainbow Island soil is also heavily used as a spice in dal chawal.
Clay is also added to rasos and jams. In some places not only red but also white, yellow, green and orange and brown clay is used for eating. However, the local people never eat this clay whole but only use it as a spice. Red ferrous oxide clays contain rich mineral elements. This soil made of igneous rocks is called Galek in the local language.
Indians like chili in their food. Turmeric and pepper – spices used a lot. Millions of varieties of food are found in the country and in the world, but sometimes clay is mixed in the food only here.
From the point of view of soil science, the salt content in the soil here is also high. Hundreds of tourists come to Hormuz Island to learn about the specialty of the soil and enjoy the cuisine. Along the coast, red mountains, red soil and water waves form an unforgettable sight. When we see the red color of the soil, we feel that we have come to a different planet like Mars.
Soil has become the most important source of livelihood for the people living in this island. Colorful paintings are prepared from this clay. People paint their houses and bungalows with precious clay. Artists create handicrafts from special types of clay. Tourists take handicrafts made from Hormuz clay as souvenirs.
There is also a museum and gallery of Dr. Ahmed Nadalian, whose art works are internationally known. Apart from this, skeletal systems of marine creatures have also been collected for information. This place is known as the Disneyland of explorers and geologists. More than 70 types of minerals are found in this soil.
This soil is no surprise to the local residents as it is part of their ancient way of life. Stone artefacts along the eastern coast of the island are believed to be 4000 years old. Hormuz has been considered a strategically secure port since ancient times. It was a major trading port for centuries. The European traveler Morcopolo mentioned the place in his travelogue while traveling by land around 1290 AD.
Ibn Battuta also visited this place. In the last few years, the commercial production of clay has started due to increased publicity. Clay is processed in factories and packed like cement bags. Environmental problems have started due to increasing mining and exploitation of soil on the Hormuz highlands.