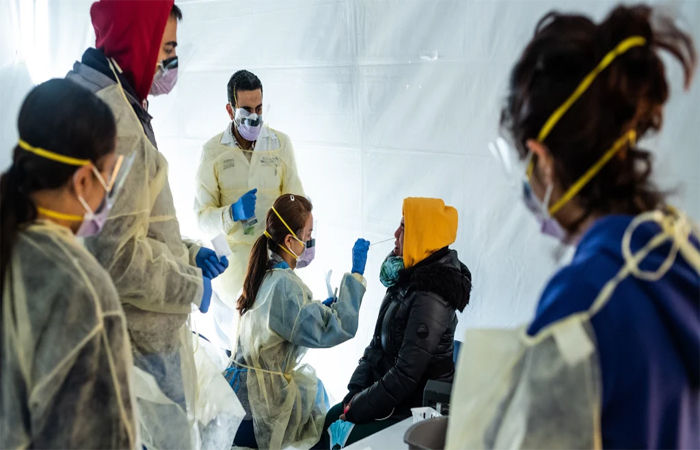 – 5.7 lakh new cases of Covid-19 were reported during the week starting July 10, which is 6% more than the previous week.
Geneva: A more contagious form of the corona virus has come out. which can penetrate the 'protective wall'. Along with this, the number of people admitted to the hospital is also increasing. Hence, WHO chief scientist Soumya Swaminathan has warned that the world has to be prepared for a new wave of Covid.
They said, there are continuing reports that Omicron's sub-variants BA-4 and BA-5 can also infect vaccine recipients.
We have to be prepared for new waves of Covid-19 as every variant of the virus and their transmissibility will be able to break the 'vaccine-shield', Swaminathan tweeted on Thursday evening. As the number of such infections increases in the hospitals, patients will continue to be recruited more, so every country will have to get the statistics and start preparations to deal with it. A detailed plan has to be made for that.
Meanwhile, news has also been received that the virus called 'Zika' is also spreading. A seven-year-old girl has been infected in Palghar on the outskirts of Mumbai. At the time, World Bank Group Senior Adviser Philippe Schelenkes contacted the Geneva-based scientists on Twitter. In response, it was stated that the death rate of Kovid, which has been declining for months, is showing an increase at the global level. Shockingly, it seems that vaccination has been lax in many countries.
The epidemic is also spreading in high-income countries and middle-income countries, Shelensk added. Among such high-income countries, America, France, Italy, Germany and Japan are becoming carriers of the epidemic globally. Brazil is the leading middle-income country, and one of the frontrunners in the ever-increasing mortality rate.
WHO Director General Dotedos Adhanom Ghebreyesus said, "I am concerned because of the increase in the death rate. In the week of July 4 to July 10, more than 9,800 people died due to Covid-19.