– One fireman died, six were injured in the fire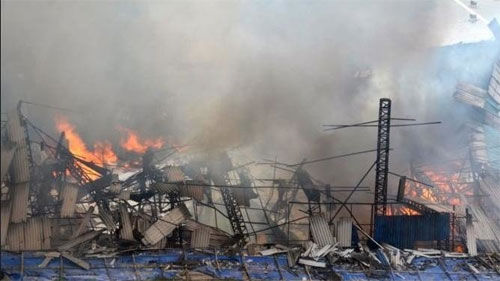 – Various organizations of film workers came into fray: Demanding fire audit in all studios

Mumbai
A fireman was killed and six others injured when a fire broke out on a film set erected on a ground in Mumbai's Andheri. After this tragedy, various labor organizations have come forward and have demanded that an FIR be registered against the creator of the film, Luv Ranjan, and compensation of 50 lakhs to the family of the deceased.
Lead actors Ranbir Kapoor and Shraddha Kapoor were not present on the sets when the fire broke out. But, they were going to shoot on the same set from next week.
The Federation of Western Indian Cine Employees Association said that the structures on film sets are made up of temporary structures and there is no proper fire audit. Producers should ensure that precautions including fire safety audit are taken before starting shooting on such sets. Producer organizations should take initiative on this issue. Our association will also ask the workers not to start work on such dangerous sets. Usually at least 500 to 1000 people work on the set of a film. It is scary to imagine what would have happened if so many people were present when the fire broke out.
On the other hand, the Western India Film and Walkie Talkie Attendants and Fire Fighters Association has announced to lodge a complaint with the local labor authorities on Monday expressing outrage over the entire incident. He has demanded that legal action should be taken against creator Luv Ranjan under IPC 304 and compensation of Rs 50 lakh should be ensured to the family of the fireman who died in the accident. He has demanded that the people injured in the accident should also be given the treatment expenses and other compensation.