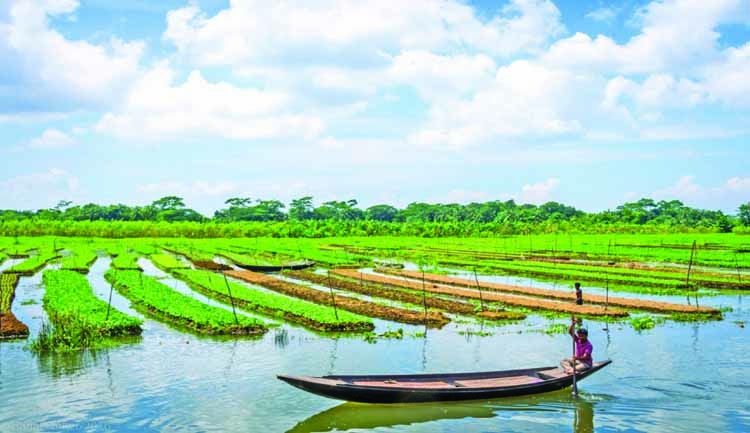 Dhaka, 15th July, 2022, Friday
Heavy rains also damage agriculture, as does water scarcity. When the water flow of the rivers regurgitates the standing crop, the entire crop is washed away. For a sustainable solution to this problem, floating gardens are designed and cultivated in Bangladesh. A variety of vegetable crops can be easily grown in this floating garden which remains afloat even during heavy floods.
Although carbon emissions are not much of a problem in Bangladesh, these floating farms have come as a boon as poor farmers continue to suffer from climate change. These floating gardens have become a source of income in flood-prone rural areas. Although the world was not an issue of climate change, these floating gardens were cultivated before. Decades ago people knew the technique of cultivating floating gardens when rivers flooded during the rainy season.
These floating gardens are created using water plants that curl up in the water like watercress. It moves along with the water waves. In that way, these floating gardens are like floating beds in water. A 3-foot-deep layer is created over the years from the water vegetation that grows in this floating garden. In the hollows in between, short term vegetable crops can be sown just like a field.
Compost is made from the decaying residues of plants when they are dried after crop production. In the southern part of Bangladesh, where there are flood-prone areas, floating gardens have been cultivated for over 300 years. Barisal, Goplaganj is known for floating agriculture. This method is called dhep in the local language. Farmers in coastal areas earn income by growing vegetables in this way.
Floating agriculture has been given heritage status by the UN
These types of floating gardens are especially found in riverine areas. Vegetables like okra, dudhi, brinjal and spinach can be easily grown in these gardens. Some farmers also produce turmeric and ginger to a limited extent. India, Cambodia also have floating gardens in a couple of places but UN's National Food and Agriculture Organization has given these floating gardens of Bangladesh the status of agricultural heritage.