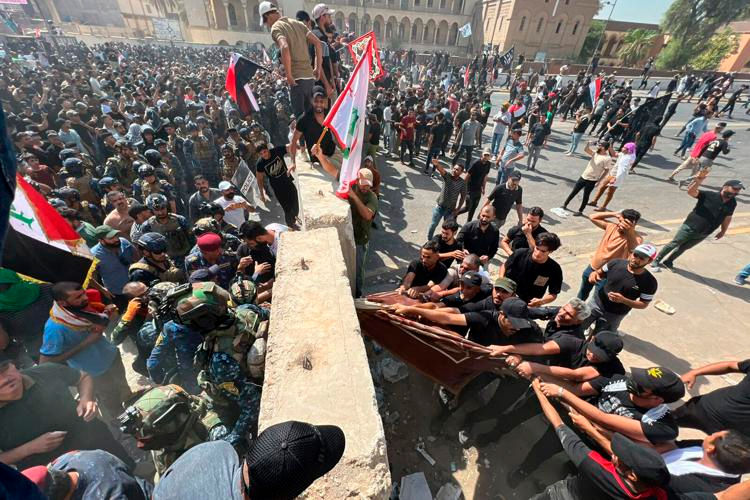 A large number of people demonstrated in Iraq against the candidate for Prime Minister Mohammad Shia al-Sudani. Demonstrators entered Parliament House. This was the second such incident in a week. Security forces used force and fired tear gas on the demonstrators. It was forced to stop the session which was about to start in the Parliament House.
There has been a huge uproar in Iraq over the support of the Iranian-backed organization to the prime ministerial candidate Mohammad Shia al-Sudani. In Iraq, the cleric's supporters took to the streets to protest against the prime ministerial candidate. Demonstrators broke into Parliament House and vandalized it. Security forces used force and fired tear gas canisters to evict them. Apart from this, a lathi was charged and a sound bomb was also blasted.
Deputy Prime Minister Mustafa Al-Qadhimi instructed the security forces not to use force and to protect the demonstrators, while also appealing to the demonstrators to hold peaceful protests. Demonstrators stormed Parliament House for the second time in a week. Earlier, the protesters broke into the Parliament House and vandalized the tables of the MPs. The demonstrators are said to be supporters of cleric Mustafa al-Sadr.
However, not a single MP was present in the Parliament House at that time. Due to the outrage of the demonstrators, the session of Parliament has been forced to close. Elections were held in Iraq in October 2021. Small and large demonstrations have been taking place ever since. Former minister and provincial governor Mohammed Shia al-Sudani is likely to become prime minister. After that the opposition has increased. Currently, Mustafa Al-Kadhimi is the acting Prime Minister.