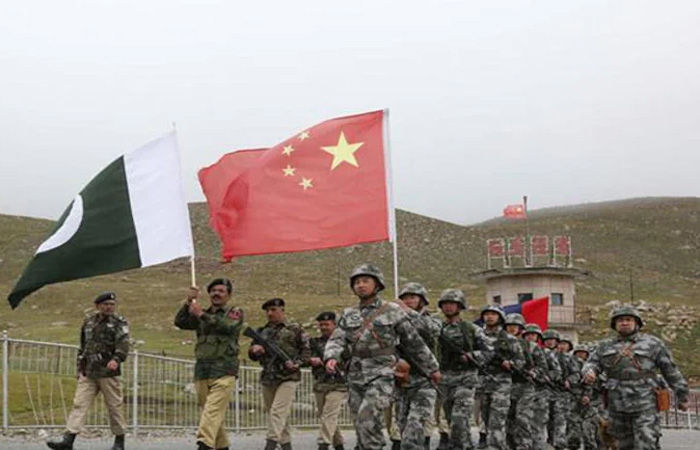 New Delhi, dated 24
China has continued its stranglehold on the border while pretending to negotiate with India. After creating a tense situation in eastern Ladakh for nearly two and a half years, China has now also intruded into Pakistan-occupied Kashmir. China is building a bunker here for the Pakistani army. Along with this, China is provoking India by flying fighter planes near LAC in Eastern Ladakh. The flying of Chinese planes several times in the last three-four weeks is seen as spying on the Indian defense system.
A Chinese construction company has set up its office in Pakistan-occupied Kashmir (PoK) and is building bunkers for the Pakistani army in areas near Muzaffarabad and Athmuqam. Chinese companies have done construction before, but this is the first time they have started work on such a project along the LoC. This area of ​​PoK comes under the 32nd Division of the Pakistan Army in the Cal sector near the Neelam Ghati.
Beijing had earlier sent its troops and machines to Pakistani soil against Bikaner in Rajasthan, where it upgraded a forward base and reconstructed more than 350 stone bunkers and border outposts. While India is planning a meeting of G-20 leaders in Jammu and Kashmir next year, Pakistan and China have raised objections against this meeting.
China is trying to provoke India even after all warnings. Chinese fighter jets are flying close to the LAC in eastern Ladakh even after core commander-level talks to de-escalate the tense situation along the Line of Actual Control (LAC). Earlier too, Chinese fighter jets flew close to Indian posts on the LAC. These efforts by China are seen as spying on the Indian defense system. The Indian Air Force is closely monitoring the situation.
According to government sources, Chinese fighter jets including J-11 are flying near the posts of Indian soldiers. Many times the Chinese planes have carried out the so-called 10 km confidence building major on the LAC. Also crosses the far defined border. Indian army has also taken concrete measures in view of China's actions. India has deployed aircraft such as MiG-29 and Mirage 2000 in this region. The Indian Air Force has upgraded its base in the Ladakh sector, through which China's activities can be monitored from here. Along with this, the Indian Army has also kept a close eye on the flight patterns of Chinese fighter planes. Chinese planes have been flying over eastern Ladakh since June 24-25 to provoke India.