– The hacker pretended to be a security employee and took control of Natalie's account through a code that said the phone was hacked.
– The accused tried to find future victims by contacting Natalie's acquaintances
New delhi date. 30 July 2022, Saturday
The month of December 2019 was very scary for Natalie Close as her nude photos were leaked to around 100 people she knew. Her friends, cousins, an ex-boyfriend, etc. were sent those pictures via Snapchat. However, one of her friends, Katie Yates, immediately realized that it was an online attack and Katie knew how to deal with it. Katie is a college student in New York and Yates was also a victim of online sexual assault a few months ago. Someone started sending her nasty messages on social media.
When Yates felt like she wasn't getting help from college campuses, she started looking for ways to find her abusers on online platforms, the ones who tortured her like this. When Natalie also became a victim of this type of incident, Katie felt that the knowledge she had could be of use to Natalie as well. Katie then immediately went to Natalie's room and removed the sharp objects such as scissors, blades etc. from there so that Natalie would not hurt herself. After that, they both decided to find the people who made Natalie's nude pictures go viral.
It was a case of 'sextortion' where the assailant or victim uses personal material to exploit. The National Center for Missing and Exploited Children received nearly 44,000 complaints of online exploitation last year, including cases of sextortion.
Thousands of people become victims of sextortion
The FBI received 18,000 complaints of sextortion in 2021, with victims paying a total of $13.6 million to such attackers. In September, the bureau said more than half of the complaints were received during the first seven months, with victims between the ages of 20 and 39.
Sadly, agencies fighting these types of attacks often lack the budget and experience to combat digital crime. Tech companies are also very slow to react in this matter. Many cases of sextortion begin with a dating app, but in Natalie's case, Snapchat was used.
Learn how to become a victim
The hacker who targeted Natalie posed as a security employee and warned her that her phone had been hacked. He then asked to share a code and took control of Natalie's account. Along with this, he locked Natalie out of the account.
According to the Snapchat company, they removed the hacker from Natalie's profile within 24 hours of learning about it in June. However, Natalie has not yet gained access to her account.
Another hunting firac through Natalie's pictures
The hacker accessed the private 'My Eyes Only' section of Natalie's Snapchat account and obtained her nude photos. Natalie clicked such pictures of herself to recover from a bad experience of rape. But the hacker sent the pictures to Natalie's contacts with the caption 'If we are best friends then message me'. According to the lawyers, Harkar sent the message with the intention of collecting personal information of other people so that they can be victimized in future. After that he did not make any demands from Natalie.
Many people who were in contact with Natalie felt that the message was true. It means that Natalie is the one who sent that message. Due to this, many people also misbehaved with him with bad intentions. Natalie's condition became so dire that she even decided to end her life by committing suicide.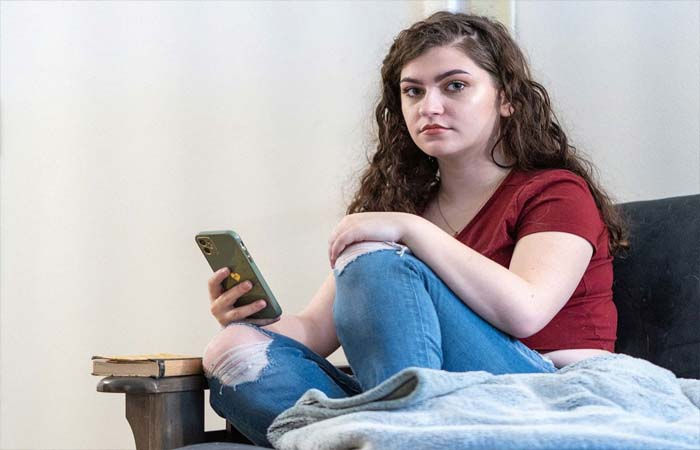 Natalie and Katie's plan
Natalie came up with a plan with Katie's help. Katie accessed Natalie's account through her profile. He sent a link and wrote that it has nude pictures of him. In fact, the URL was similar to a porn site and the IP addresses of people who clicked on it were collected. That link was sent through a website called Grabify IP Logger.
Both sisters caught the hacker
Natalie-Katie's plan would have failed if the hacker had been using a virtual private network. The hacker was not using a virtual private network and that's why he was caught. Soon after getting information about it, a direct link to Wikipedia sent by Natalie and Katie took the hacker to a message with 'gotcha' written on it. Which means, your pot has burst. Katie said that after seeing the message, the hacker immediately messaged her asking what it was, but she immediately blocked the hacker. For a moment afterward, they both thought they'd made a mistake and that the guy was going to get away with it because he was in Manhattan and using an iPhone without a VPN.
More than 300 accounts hacked
However, the information he gathered was enough for the FBI to find and arrest the hacker. David Mundor, a 29-year-old man, worked as a cook (chef) and lived in Harlem. He admitted to hacking over 300 Snapchat accounts. He and Natalie were strangers and he hacked Natalie's account. The accused was sentenced to 6 months in prison but according to Natalie that is too little.